Would you like to be part of an organization driven by enthusiasm and oriented towards global harmony and individual empowerment?
The foothills of the Velliangiri mountains, forty kilometers from the city of Coimbatore in South India, serve as a home for the Isha Yoga Center. The center is dedicated to fostering inner transformation and creating a stable state of well-being in individuals. The large residential facility houses an active international community of brahmacharis, full-time volunteers, and visitors. Every week, thousands of people converge at the center to seek inner peace and well-being, making it a vibrant hub of spiritual growth and activity.

Read more about Isha Foundation...
Purpose of the Job
We are seeking an experienced DevOps Lead to guide our growing DevOps team, shape our
cloud strategy, and lead our cloud operations.
Job Responsibilities
Cloud Infrastructure Management
Architect, maintain, and optimise our AWS cloud infrastructure ensuring best practices, security, and cost efficiency, oversee infrastructure scalability and resilience. 
Manage disaster recovery strategies and ensure regular backups. 
Scrutinise and optimise AWS costs, ensuring the best value without compromising performance or security.

Deployment Automation 
Implement and manage CI/CD pipelines 
Automate infrastructure provisioning and configuration management 
Maintain and enhance monitoring, logging, and alerting systems

Security  Compliance
Ensure that all infrastructure components are compliant with security standards. 
Monitor systems for any anomalies and potential security breaches. 
Collaborate with the security team to address vulnerabilities and implement patches in a timely manner.

Training & Hiring
Mentor, guide and train the team to elevate our DevOps maturity
Recognize skill gaps and hire necessary talent to augment the team's capabilities.
Leadership &  Collaboration 
Take full ownership of the Devops strategy and delivery 
Liaise with the Application Development and maintenance teams to implement Devops best practices

Continuous Improvement: 
Research and introduce new tools and technologies to optimise DevOps operations. 
Ensure team members are trained on the latest AWS services and DevOps methodologies. 
Drive initiatives to improve efficiency, speed, and quality of deployments.

Required Competencies
Educational Qualification : Graduate
Skill Competencies :
Must Have Skills
Minimum of 8 years of experience in a DevOps role, with at least 2-4 years in a leadership capacity.
Proficiency with AWS services such as EC2, S3, RDS, Lambda etc.
Experience with infrastructure as code tools, like Terraform.
Familiarity with CI/CD tools such as Jenkins.
Strong understanding of containerization and orchestration, preferably using Docker
and Kubernetes.
Knowledge of scripting languages like Python, Bash, or Perl.
Strong understanding of security best practices in DevOps and AWS environments

Good To Have Skills
● AWS certifications, particularly DevOps Engineer - Professional or Solutions Architect
- Professional.
● Familiarity with the non-profit sector and a passion for social change.
● Prior experience in a multicultural and multidisciplinary environment.
Experience : 7 ~ 10years
Gender : Any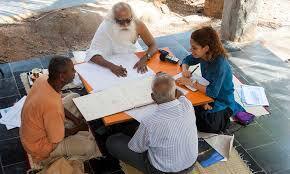 What do we look for in our candidates?
Entrepeneural Spirit and an egoless nature.
Proven work ethic with utmost integrity and desire to excel and succeed.
Self motivated, passionate, empathetic and approachable.
You love to have fun, but you also take your responsibilities seriously.
Interested?
Contact us
Phone: 94421 27000
Email: [email protected]
Isha Yoga Center
Velliangiri Foothills
Ishana Vihar Post
Coimbatore – 641 114
Tamil Nadu, India.