Would you like to be part of an organization driven by enthusiasm and oriented towards global harmony and individual empowerment?
Isha's various educational initiatives work towards the wholesome development of the child and the inculcation of life skills.

Isha Vidhya is a pioneering education initiative that seeks to transform the lives of India's rural poor.

It was established in 2006 (under the umbrella of Isha Education trust) towards building an India where high-quality school education is accessible and affordable, especially for rural underprivileged children.

Isha Vidhya provides education as a life-empowering opportunity for rural children. The English-language, computer-based learning follows a holistic approach that takes learning beyond academics, ensuring that students realize their full potential and learn joyfully.

Isha's Government School Support Program supplements the government's efforts by bridging critical gaps in delivering quality education.

Read more about Isha Foundation...
Purpose of the Job
Extensive teaching and administration experience.
Strong problem-solving and analytical skills.
Excellent research and report writing abilities.
Strong written and verbal communication as well as presentation skills.
The ability to follow instructions but also come up with creative ideas.
Proficiency in MS Office and other software systems.
Knowledge of budgeting and management.
A high degree of professionalism.
Job Responsibilities
The Vice Principal should be reliable and trustworthy & will be tasked with School policies, organizing school events and community initiatives, updating student records, handling disciplinary issues, and recruiting new staff. VP should make valid contributions to the improvement of the school and be a stellar example for both staff and students and part of the school administration team and oversee daily activities. Vice Principals should engage with other staff members, students, as well as parents and ensure the school environment is safe. Assist the Principal in teacher selection, allocation of teaching responsibilities, evaluation,& make recommendations for promotion and all disciplinary matters. And also with the admissions and withdrawal process for students. Correspondence with parents regarding academic VP should be a good public speaker with strong written and verbal communication skills.
Required Competencies
Educational Qualification : Master Degree
Skill Competencies : PROBLEM SOLVING,TIME MANAGEMENT
Experience : 4 ~ 6years
Gender : Any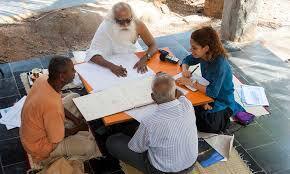 What do we look for in our candidates?
Entrepeneural Spirit and an egoless nature.
Proven work ethic with utmost integrity and desire to excel and succeed.
Self motivated, passionate, empathetic and approachable.
You love to have fun, but you also take your responsibilities seriously.
Interested?
Contact us
Phone: 94421 27000
Email: [email protected]
Isha Yoga Center
Velliangiri Foothills
Ishana Vihar Post
Coimbatore – 641 114
Tamil Nadu, India.