Would you like to be part of an organization driven by enthusiasm and oriented towards global harmony and individual empowerment?
The Isha Rejuvenation Center, located in the Isha Yoga Center, offers programs of various durations that allow you to experience inner peace and the joy of a healthy body. Unique, carefully tailored programs designed by Sadhguru bring vibrancy and optimal balance to your life energies. This balance is crucial for healthy living as well as for preventing and uprooting chronic ailments. Scientifically structured, the programs combine allopathic, alternative, and complementary therapies, along with the sublime wisdom of various ancient Indian medicinal practices.

Programs such as Ayur Rasayana Intensive, Ayur Sampoorna, and Yoga Marga feature a synthesis of yogic methods and practices, diet, massages, therapeutic baths and wraps, vitalizing tonics and Siddha medicines (an ancient medical system from South India), as well as other program-specific methods to create long-lasting, rejuvenating effects.

"Every human being aspires for health and wellbeing. True health fundamentally means to be in tune with nature, both the inner and outer."
- Sadhguru

Read more about Isha Foundation...
Purpose of the Job
Responsible for pharmacy billing and stocks. Generate Sales, Stock, Reconciliation reports and Support to Audit
Job Responsibilities
1. Pharmacy for billing. 2. Preparing monthly report and budget sheet. 3. Preparing purchase orders and vouchers. 4. Maintaining records and files accurately. 5. Tracking of purchase bills- both medicines and materials 6. Update accounts receivable and issue invoices 7. Update accounts payable and perform reconciliations 8. Assist with reviewing of expense records, etc. as assigned 9. Update financial data in databases to ensure that information will be accurate and immediately available when needed 10. Prepare and submit weekly/monthly reports 11. Assist senior accountants in the preparation of monthly/yearly closings
Required Competencies
Educational Qualification : Bachelor Degree
Skill Competencies : 1. Proven experience as a junior accountant 2. Good with numbers and figures and an analytical skills 3. Good understanding of accounting and financial reporting principles and practices 4. Excellent knowledge of MS Office and Tally software 5. Experience in accounting, finance or relevant field
Experience : 0 ~ 3years
Gender : Any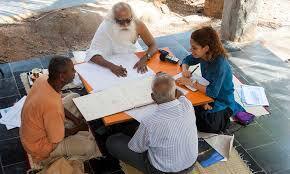 What do we look for in our candidates?
Entrepeneural Spirit and an egoless nature.
Proven work ethic with utmost integrity and desire to excel and succeed.
Self motivated, passionate, empathetic and approachable.
You love to have fun, but you also take your responsibilities seriously.
Interested?
Contact us
Phone: 94421 27000
Email: [email protected]
Isha Yoga Center
Velliangiri Foothills
Ishana Vihar Post
Coimbatore – 641 114
Tamil Nadu, India.