Context of this Job
This is an open position for IT at Isha Foundation.

The foothills of the Velliangiri mountains, forty kilometers from the city of Coimbatore in South India, serve as home for the Isha Yoga Center. The Center is dedicated to fostering inner transformation and creating an established state of wellbeing in individuals. The large residential facility houses an active international community of brahmacharis, full-time volunteers and visitors. Established by Sadhguru as a powerful sthana (a center for inner growth), it is unique in its offering of all the four paths of yoga – gnana (knowledge), karma (action), kriya (energy) and bhakti (devotion). Every week, thousands of people converge at the center to seek out inner peace and wellbeing, making it a vibrant hub of spiritual growth and activity.

"The reason why the ashram is being structured and created the way it is, is to make people understand that a spiritual process does not mean barrenness of life. Spiritual process means grandeur of life. It does not mean obscenity of excess but grandeur of life. Some aspects very carefully crafted to be minimalistic, some elaborate and exuberant."

- Sadhguru
Read more about Isha Foundation...
Purpose of the Job
Initiating, working, transcoding, monitoring and Controlling Isha's live stream event.
Job Responsibilities
1. Initiating, working, transcoding, monitoring and Controlling live stream event. 2. Knowledge of streaming media protocols : HTTP Live Streaming (HLS), DASH, RTMP, RTSP, etc. 3. Working knowledge of media codecs, formats, transports and container protocols, such as MPEG-2, H.264/AVC, AAC, AC3, MP4, TS, Webrtc etc. 4. Knowledge of common network architectures (routers/switches/proxies, etc.) and protocols (HTTP, etc.) 5. Working Knowledge on media Streaming servers like Red5, Wowza, or equivalent 6. Working Knowledge on Cloud Technologies like S3 NetStorage, Cloudfront etc. 7. Working Knowledge on Video Transcoding using tools like FFmpeg, Elemental etc. 8. Thorough understanding of how live streaming works and familiarity with streaming protocols, such as RTMP, and encoding/transcoding. 9. Working with IT staff on the maintenance of the webcast control room. Work with IT to install and maintain production and post-production hardware and software as required. 10. Stay current with webcasting technologies. Test regular improvements in the digital media production environment. 11. Actively participate in the production of live webcasts, following established processes and checklists. Take responsibility for the quality of the final product following approved procedures, keeping records, actively solving problems, documenting solutions, and improving procedures. 12. Follows defined checklists for event preparation, including but not limited to: confirming video signal acquisition, ensuring live events are posted on the website, setting up equipment (encoders and production software), and providing basic webcast technical support, which may include diagnosing and troubleshooting web browsers, bandwidth, and other internet-related issues for end consumers.
Required Competencies
Educational Qualification : Graduate
Skill Competencies : 1. Graduate with 5-10 years' experience in Media Industry
2. Experience in live internet video production and delivery.
3. Knowledge of current webcast and social media technology.
4. An understanding of the dynamics and pressures of live programming, including the need adherence to set procedures, flexible work hours as necessary to accommodate global webcast events, quick thinking and calm problem solving, and a desire to produce a consistent internet video service of the highest quality.
5. Strong Internet and Web technical skills.
Experience : 4 ~ 6years
Gender : Any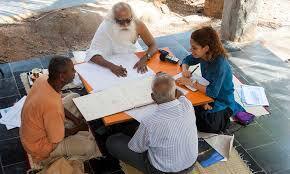 What do we look for in our candidates?
Entrepeneural Spirit and an egoless nature.
Proven work ethic with utmost integrity and desire to excel and succeed.
Self motivated, passionate, empathetic and approachable.
You love to have fun, but you also take your responsibilities seriously.
Interested?
Contact us
Phone: 94421 27000
Email: [email protected]
Isha Yoga Center
Velliangiri Foothills
Ishana Vihar Post
Coimbatore – 641 114
Tamil Nadu, India.