Would you like to be part of an organization driven by enthusiasm and oriented towards global harmony and individual empowerment?
Isha's various educational initiatives work towards the wholesome development of the child and the inculcation of life skills.

Isha Home School is located amidst the tranquil surroundings of the Velliangiri Mountains near Coimbatore, Tamil Nadu. Founded in 2005 by Sadhguru, the school strives to incorporate his educational approach into its day-to-day teaching process.

The school's greatest asset is its dedicated and talented faculty, who continuously challenge themselves and the students to participate entirely in the symbiotic learning process.

Isha Home School offers a stimulating environment for the child's inner blossoming, resulting in the well-rounded development of every individual while maintaining high standards of academic excellence.

Read more about Isha Foundation...
Purpose of the Job
1. Supervise sevadhars and make sure the work assigned are getting done as expected
2. Participate in maintenance activities of school as and when needed
Job Responsibilities
Supervise sevadhars and make sure the work assigned are getting done as expected
Visit houses along with the construction or other teams when they come to address the tickets.
Make sure the regular / routine cleaning is happening in all the places.
Dining support
Required Competencies
Educational Qualification : Any
Skill Competencies : Supervise sevadhars and their maintenance activities

Experience : 0 ~ 3years
Gender : Female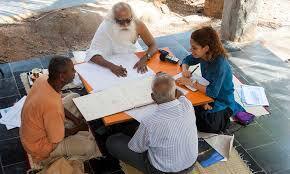 What do we look for in our candidates?
Entrepeneural Spirit and an egoless nature.
Proven work ethic with utmost integrity and desire to excel and succeed.
Self motivated, passionate, empathetic and approachable.
You love to have fun, but you also take your responsibilities seriously.
Interested?
Contact us
Phone: 94421 27000
Email: [email protected]
Isha Yoga Center
Velliangiri Foothills
Ishana Vihar Post
Coimbatore – 641 114
Tamil Nadu, India.