Would you like to be part of an organization driven by enthusiasm and oriented towards global harmony and individual empowerment?
The foothills of the Velliangiri mountains, forty kilometers from the city of Coimbatore in South India, serve as a home for the Isha Yoga Center. The center is dedicated to fostering inner transformation and creating a stable state of well-being in individuals. The large residential facility houses an active international community of brahmacharis, full-time volunteers, and visitors. Every week, thousands of people converge at the center to seek inner peace and well-being, making it a vibrant hub of spiritual growth and activity.

Read more about Isha Foundation...
Purpose of the Job
We are looking for an eloquent, persuasive proposal writer to join our team of writers in creating proposals. The proposal writer's responsibilities include gathering information, formatting the information according to the company's policies, obtaining supervisor approval, and sending the
proposal to the appropriate source.
Job Responsibilities
Compose persuasive and well-structured CSR proposals for Isha's outreach projects.
Collaborate closely with project managers, program coordinators, and subject matter experts to gather information and insights for proposal development.
Synthesize complex information into clear, concise, and impactful narratives that effectively communicate the Isha Foundation's mission and the positive impact of its projects.
Ensure proposals adhere to the guidelines and requirements of targeted corporate entities and funding organizations. Include supporting documentation, budgets, and timelines in proposals.
Maintain a repository of past proposals, templates, and relevant materials to streamline the proposal development process. 
Stay updated on the latest trends and best practices in CSR area and incorporate them into proposal writing.

Required Competencies
Educational Qualification : Any
Skill Competencies : Researching, writing, and organizing information in a professional and credible manner.
Must Have:
Strong working knowledge of word processing software.
Excellent written and verbal communication and interpersonal skills.
Good to Have:
Previous experience in proposal writing may be advantageous.
Good strategic planning abilities.
Experience : 4 ~ 6years
Gender : Any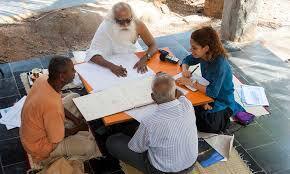 What do we look for in our candidates?
Entrepeneural Spirit and an egoless nature.
Proven work ethic with utmost integrity and desire to excel and succeed.
Self motivated, passionate, empathetic and approachable.
You love to have fun, but you also take your responsibilities seriously.
Interested?
Contact us
Phone: 94421 27000
Email: [email protected]
Isha Yoga Center
Velliangiri Foothills
Ishana Vihar Post
Coimbatore – 641 114
Tamil Nadu, India.