Would you like to be part of an organization driven by enthusiasm and oriented towards global harmony and individual empowerment?
The foothills of the Velliangiri mountains, forty kilometers from the city of Coimbatore in South India, serve as a home for the Isha Yoga Center. The center is dedicated to fostering inner transformation and creating a stable state of well-being in individuals. The large residential facility houses an active international community of brahmacharis, full-time volunteers, and visitors. Every week, thousands of people converge at the center to seek inner peace and well-being, making it a vibrant hub of spiritual growth and activity.

Read more about Isha Foundation...
Purpose of the Job
Oversee all technical projects, system and software upgrades. Manage relationships with vendors, contractors and negotiate contracts for technical products and services for the organization.
Job Responsibilities
1. The person should be very fluent in English. 2. Good in mail communication. 3. To systematize and document the tasks that are performed. 4. Taking individual responsibility in setting up department work. 5. Creating work schedule, implementing and monitoring the same. 6. For first level vendor communication and follow-ups. 7. Telecom team internal escalations. 8. Preparing vendor wise report on revenue generation. 9. Preparing bill report and acting on the same. 10. Bill Utilization report generation. 11. Indent raising and follow-up. 12. Extracting monthly wise report. 13. Common number support Acting up on Department Lead guide. 14. Portal issues escalation and enhancement requirement by coordinating with IT. 15. Resolving Bottle necks in daily tasks. 16. Should be a good team player and should guide the team. 17. Generating various reports 18. Should create Work flow documents. 19. Daily follow-up with team/vendor on respective tasks. 20. Coordinating regarding bandwidth down between IT, vendor and technicians, proper update within the stakeholders. 21. Complete handling of telecom portal mail ID which includes receiving all telecom requests and complaints. 22. Future planning with vision.
Required Competencies
Educational Qualification : Bachelor Degree
Skill Competencies : 1. Resolving technical issues in intercom system, coordinating with service vendors and PBX vendor.
2. First level technical troubleshoot.
3. Intercom system issues.
4. Intercom system new configuration with vendor and testing the same.
5. Call center issues , new developments and customizations.
6. Project coordination.
7. Finalizing requirement with the project owner.
8. Exploring multiple options and designing suitable solutions.
9. Finalizing all requirements.
10. Material indent raising and co-ordination with purchase.
11. Obtaining quotations, and finalizing Vendor after comparison.
12. Planning, daily follow-up of task execution.
13. Proper maintenance of telecom stores with records.
14. Raising tickets with service providers and following until completion.
15. Generating regular technical reports, documenting and scrutinizing the same, Escalating anomalies.
Experience : 4 ~ 6years
Gender : Male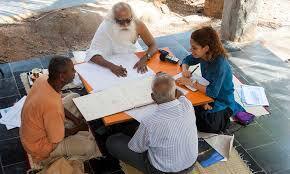 What do we look for in our candidates?
Entrepeneural Spirit and an egoless nature.
Proven work ethic with utmost integrity and desire to excel and succeed.
Self motivated, passionate, empathetic and approachable.
You love to have fun, but you also take your responsibilities seriously.
Interested?
Contact us
Phone: 94421 27000
Email: [email protected]
Isha Yoga Center
Velliangiri Foothills
Ishana Vihar Post
Coimbatore – 641 114
Tamil Nadu, India.