Administration & Management
Would you like to be part of an organization driven by enthusiasm and oriented towards global harmony and individual empowerment?
The foothills of the Velliangiri mountains, forty kilometers from the city of Coimbatore in South India, serve as a home for the Isha Yoga Center. The center is dedicated to fostering inner transformation and creating a stable state of well-being in individuals. The large residential facility houses an active international community of brahmacharis, full-time volunteers, and visitors. Every week, thousands of people converge at the center to seek inner peace and well-being, making it a vibrant hub of spiritual growth and activity.

Read more about Isha Foundation...
Purpose of the Job
Making teachers understand the goal of the Organization and the ethics that they need to hold

Job Responsibilities
Creating sources for recruitment
Increasing activity in local groups.
Increased PR activities
Analysing future manpower requirements
Building a reliant data bank
Campus/ Walkin Hires
Efficiency evaluation
Employer Branding- Promotions, Articles- Social Media
Evaluation- Pre screening Input
Validation of Aadhaar details in EPFO - Prior Joining
Employee Document collection/ Validation & Updation
Form XI & Work Opportunity forms
Background verification
Validation of records in Sulaba and HPMS
Orientation of employee
Induction & Training- POCSO, HRMS, PF & ESI
Orientation- Isha Vdhya Policies
EPFO- Enrolment & UAN Activation
EPFO-KYC Updation/ Detail Modification
EPFO- Claims & Advances
ESI- E Pehchan Card
ESI- Local office & ESI Dispensary Visit
Accident Intimation & follow up
Accident register Maintenance
Labour Commissioner- Inspection Handling
Weigh Scales- Callibaration & Certification- Admin Follow up


Biometric Device - Breakdown handling
BMS- Registration of new employee
Validation of OT/ Additional engagement
Support role in Attendance deviation


Creating sources of information to get information on issues first hand
Increasing PR activities around the school
Building good relationship with shops or joints around the school
Keeping an approachable character
Maintaining Confidentiality always
Analysing issue to confirm its authenticity and provide escalation and updation required


Identification of grey areas in and around the school which can cause an accident or can be a place without safety for children
Approachable and pleasant mannerism to children where early signs of information on violence can be made
Validation of complaint box placed at school



Required Competencies
Educational Qualification : Graduate
Skill Competencies : People Management, Multitasking
Experience : 0 ~ 3years
Gender : Male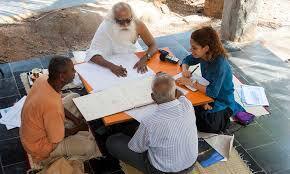 What do we look for in our candidates?
Entrepeneural Spirit and an egoless nature.
Proven work ethic with utmost integrity and desire to excel and succeed.
Self motivated, passionate, empathetic and approachable.
You love to have fun, but you also take your responsibilities seriously.
Interested?
Contact us
Phone: 94421 27000
Email: [email protected]
Isha Yoga Center
Velliangiri Foothills
Ishana Vihar Post
Coimbatore – 641 114
Tamil Nadu, India.