Context of this Job
This is an open position for Cauvery Calling at Isha Foundation.

The foothills of the Velliangiri mountains, forty kilometers from the city of Coimbatore in South India, serve as home for the Isha Yoga Center. The Center is dedicated to fostering inner transformation and creating an established state of wellbeing in individuals. The large residential facility houses an active international community of brahmacharis, full-time volunteers and visitors. Established by Sadhguru as a powerful sthana (a center for inner growth), it is unique in its offering of all the four paths of yoga – gnana (knowledge), karma (action), kriya (energy) and bhakti (devotion). Every week, thousands of people converge at the center to seek out inner peace and wellbeing, making it a vibrant hub of spiritual growth and activity.

"The reason why the ashram is being structured and created the way it is, is to make people understand that a spiritual process does not mean barrenness of life. Spiritual process means grandeur of life. It does not mean obscenity of excess but grandeur of life. Some aspects very carefully crafted to be minimalistic, some elaborate and exuberant."

- Sadhguru
Read more about Isha Foundation...
Purpose of the Job
Editing segments of motion video production footage and special effects.
Job Responsibilities
1. Good sense of timing and visual awareness.
2. Edit film pieces to ensure logical sequencing and smooth running.
3. Take a brief to grasp the teams (Directors) need and specifications.
4. Input music, dialogues, graphics and effects.
Required Competencies
Educational Qualification : Any
Skill Competencies : 1. Proven work experience as a video editor.
2. Solid experience with digital technology and editing software packages (e.g. / Adobe Premiere / After Effects, Avid Media Composer and Light works etc.).
3. Demonstrable video editing ability with a strong portfolio.
4. Familiarity with effects and compositing.
5. The ability to work under tight deadlines.
Experience : 4 ~ 6years
Gender : Any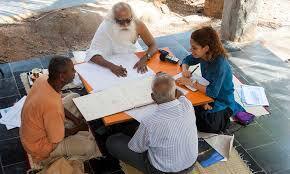 What do we look for in our candidates?
Entrepeneural Spirit and an egoless nature.
Proven work ethic with utmost integrity and desire to excel and succeed.
Self motivated, passionate, empathetic and approachable.
You love to have fun, but you also take your responsibilities seriously.
Interested?
Contact us
Phone: 94421 27000
Email: [email protected]
Isha Yoga Center
Velliangiri Foothills
Ishana Vihar Post
Coimbatore – 641 114
Tamil Nadu, India.