Would you like to be part of an organization driven by enthusiasm and oriented towards global harmony and individual empowerment?
The foothills of the Velliangiri mountains, forty kilometers from the city of Coimbatore in South India, serve as a home for the Isha Yoga Center. The center is dedicated to fostering inner transformation and creating a stable state of well-being in individuals. The large residential facility houses an active international community of brahmacharis, full-time volunteers, and visitors. Every week, thousands of people converge at the center to seek inner peace and well-being, making it a vibrant hub of spiritual growth and activity.

Read more about Isha Foundation...
Purpose of the Job
The teacher aims of teaching and learning Sanskrit language and to encourage and enable the students to learn and communicate well in the language.
Job Responsibilities
1. Teaching Sanskrit for students from age 7 to 18. 2. Training students in spoken and written Sanskrit. 3. Prose, Poetry, Grammar, Slokas. 4. Present lessons in a comprehensive manner to facilitate learning. 5. Provide individualized instruction to each student by promoting interactive learning. 6. Create and distribute educational content (notes, summaries, assignments etc.). 7. Assess and record students' progress and provide feedback. 8. Maintain a tidy and orderly classroom. 9. Plan and execute educational in-class and outdoor activities and events. 10. Develop and enrich professional skills and knowledge. 11. Handling Sanskrit classes from levels 1 to 8.
Required Competencies
Educational Qualification : Master Degree
Skill Competencies : 1. Proven experience as a teacher.
2. Thorough knowledge of teaching best practices and legal educational guidelines partnered with a willingness to follow the school's policies and procedures.
3. Excellent communication and interpersonal skills.
4. Well-organized and committed.
5. Creative and energetic.
6. Strong moral values and discipline.
7. Basic computer skills.
8. Degree in teaching or in a specialized subject with a certificate in education.
Experience : 4 ~ 6years
Gender : Any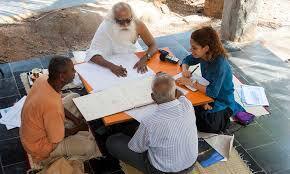 What do we look for in our candidates?
Entrepeneural Spirit and an egoless nature.
Proven work ethic with utmost integrity and desire to excel and succeed.
Self motivated, passionate, empathetic and approachable.
You love to have fun, but you also take your responsibilities seriously.
Interested?
Contact us
Phone: 94421 27000
Email: [email protected]
Isha Yoga Center
Velliangiri Foothills
Ishana Vihar Post
Coimbatore – 641 114
Tamil Nadu, India.