Administration & Management
Context of this Job
This is an open position for Administration & Management at Isha Foundation.

The foothills of the Velliangiri mountains, forty kilometers from the city of Coimbatore in South India, serve as home for the Isha Yoga Center. The Center is dedicated to fostering inner transformation and creating an established state of wellbeing in individuals. The large residential facility houses an active international community of brahmacharis, full-time volunteers and visitors. Established by Sadhguru as a powerful sthana (a center for inner growth), it is unique in its offering of all the four paths of yoga – gnana (knowledge), karma (action), kriya (energy) and bhakti (devotion). Every week, thousands of people converge at the center to seek out inner peace and wellbeing, making it a vibrant hub of spiritual growth and activity.

"The reason why the ashram is being structured and created the way it is, is to make people understand that a spiritual process does not mean barrenness of life. Spiritual process means grandeur of life. It does not mean obscenity of excess but grandeur of life. Some aspects very carefully crafted to be minimalistic, some elaborate and exuberant."

- Sadhguru
Read more about Isha Foundation...
Purpose of the Job
Managing the dorms
Job Responsibilities
 Overall responsibility for all the dorms 
Ensuring dorm ambience in align with ashram guidelines 
Ensuring only permitted people are staying or entering in the dorm 
Visiting the dorms and ensuring common utilities are used at scheduled time and in an appropriate manner. 
Turning off lights/fans when people are not staying in the dorm. 
Ensuring security records it if anyone comes after bed time, and checking whether they got permission with the concerned and if not so, taking it to respective poc for their action. 
Facilitating infra/amenities needed at Dorms If any infra / amenities related grievances raised by depts or by another user, resolving it in the appropriate manner. Eg: utilities issue, cleanliness, building maintenance. 
If any people behavior/attitude issues raised by depts or by another user, ensuring respective stakeholders are addressed it in the appropriate manner.
 

Required Competencies
Educational Qualification : Graduate
Skill Competencies : Good in communication and Basic computer operating system
Experience : 0 ~ 3years
Gender : Any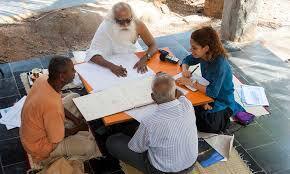 What do we look for in our candidates?
Entrepeneural Spirit and an egoless nature.
Proven work ethic with utmost integrity and desire to excel and succeed.
Self motivated, passionate, empathetic and approachable.
You love to have fun, but you also take your responsibilities seriously.
Interested?
Contact us
Phone: 94421 27000
Email: [email protected]
Isha Yoga Center
Velliangiri Foothills
Ishana Vihar Post
Coimbatore – 641 114
Tamil Nadu, India.