Senior Group Account Manager

Would you like to be part of an organization driven by enthusiasm and oriented towards global harmony and individual empowerment?
The foothills of the Velliangiri mountains, forty kilometers from the city of Coimbatore in South India, serve as a home for the Isha Yoga Center. The center is dedicated to fostering inner transformation and creating a stable state of well-being in individuals. The large residential facility houses an active international community of brahmacharis, full-time volunteers, and visitors. Every week, thousands of people converge at the center to seek inner peace and well-being, making it a vibrant hub of spiritual growth and activity.

Read more about Isha Foundation...
Purpose of the Job
Drive all marketing activities required for the success of Isha events & offerings. Devise growth plans & strategies to achieve the same. Ensure optimum allocation of resources & budget for each campaign. Responsible for planning & operationalization of each campaign across all channels including social media activity, PR & advertising efforts, email marketing, partnerships, etc. Must ensure that brand Isha is secured & strengthened at each step.

Define & own KPI / metrics for success of each event or campaign

Job Responsibilities
1. Craft strategies/approach for all teams, including Digital, Advertising, Communications, and Creative - in collaboration and consultation with various regions, stakeholders, and business owners. 2. Define conversation funnel & devise methods to improve performance. 3. Set, monitor, and report on the team & campaign goals. 4. Ensure the brand message is strong and consistent across all channels and marketing efforts (like events, email campaigns, landing pages and other promotional material). 5. Develop & maintain user/market segmentation mapped onto various events. 6. Identify growth opportunities including new market segments.
Required Competencies
Educational Qualification : Bachelor Degree
Skill Competencies : 1. 8+ years experience in managing campaigns for multiple accounts/brands/clients in an Advertising / Media agency / Marketing Services Start-up.
2. Manage a team of account managers/campaign managers.
3. Experience with running successful online marketing campaigns.
4. Strong understanding of digital marketing (SEO / SEM / social media etc.) KPIs, metrics, analytics, and reporting methods.
5. Leadership skills with the ability to manage teams, set and prioritize goals.
6. Excellent communication and presentation skills.
7. Analytical with strong attention to detail.

Experience : 7 ~ 10years
Gender : Any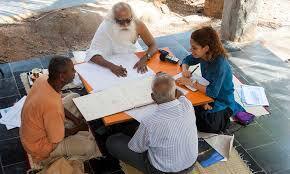 What do we look for in our candidates?
Entrepeneural Spirit and an egoless nature.
Proven work ethic with utmost integrity and desire to excel and succeed.
Self motivated, passionate, empathetic and approachable.
You love to have fun, but you also take your responsibilities seriously.
Interested?
Contact us
Phone: 94421 27000
Email: [email protected]
Isha Yoga Center
Velliangiri Foothills
Ishana Vihar Post
Coimbatore – 641 114
Tamil Nadu, India.