Would you like to be part of an organization driven by enthusiasm and oriented towards global harmony and individual empowerment?
The foothills of the Velliangiri mountains, forty kilometers from the city of Coimbatore in South India, serve as a home for the Isha Yoga Center. The center is dedicated to fostering inner transformation and creating a stable state of well-being in individuals. The large residential facility houses an active international community of brahmacharis, full-time volunteers, and visitors. Every week, thousands of people converge at the center to seek inner peace and well-being, making it a vibrant hub of spiritual growth and activity.

Read more about Isha Foundation...
Purpose of the Job
Hands-on care to patients, includes physical needs (doing everything for someone) to helping a patient with illness prevention. Maintains a patient's dignity while providing knowledgeable, skilled care
Job Responsibilities
1. Prepare patients for examinations and perform routine diagnostic checks (monitor pulse, blood pressure and temperature, provide drugs and injections etc.)
2. Handling emergencies, maintaining records, aseptic procedures, all ICU procedures, IV line, IV fluid monitoring, dressings, Inpatient care.
3. Monitor and record patient's condition and document provided care services
4. Identify patients' care requirements, focus on their needs and act on them
5. Nurture a compassionate environment by providing psychological support
6. Follow care regulations and standards
7. Work within and cooperate with a multidisciplinary team
Required Competencies
Educational Qualification : Bachelor Degree
Skill Competencies : 1. Proven nursing experience
2. Familiarity with professional and technical emerging knowledge
3. Compassionate with good communication skills
4. Excellent teamwork skills
5. Injection techniques, Blood sample collection techniques, basic dressing and suturing procedures
Experience : 0 ~ 3years
Gender : Any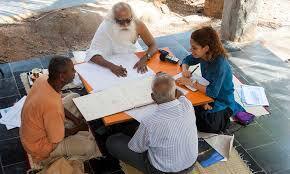 What do we look for in our candidates?
Entrepeneural Spirit and an egoless nature.
Proven work ethic with utmost integrity and desire to excel and succeed.
Self motivated, passionate, empathetic and approachable.
You love to have fun, but you also take your responsibilities seriously.
Interested?
Contact us
Phone: 94878 95874 / 94878 95876 / 94878 95877
Email: [email protected]
Isha Yoga Center
Velliangiri Foothills
Ishana Vihar Post
Coimbatore – 641 114
Tamil Nadu, India.