Product Manager (IT Applications)

Would you like to be part of an organization driven by enthusiasm and oriented towards global harmony and individual empowerment?
The foothills of the Velliangiri mountains, forty kilometers from the city of Coimbatore in South India, serve as a home for the Isha Yoga Center. The center is dedicated to fostering inner transformation and creating a stable state of well-being in individuals. The large residential facility houses an active international community of brahmacharis, full-time volunteers, and visitors. Every week, thousands of people converge at the center to seek inner peace and well-being, making it a vibrant hub of spiritual growth and activity.

Read more about Isha Foundation...
Purpose of the Job
We are looking for an experienced Product Manager passionate about building digital products that can actualize Sadhguru's vision of making one drop of spirituality available to 7 billion people.
You will join a small and evolving team that is passionate about realizing Sadhguru's vision and is committed to their own personal growth, and work with cross-functional teams to design, build and roll out features on Sadhguru App that delivers this vision

Job Responsibilities
Gain a deep understanding of customer experience, identify and fill product gaps and generate new ideas that improve customer experience and drive growth.
Own a few product areas end to end and create buy-in for the product vision with key internal stakeholders.
Own key business metrics such as feature usage and engagement and design and execute experiments and features that will move the metrics.
Build and prioritize product roadmap aligned to customer value and business needs.
Derive insights from product analytics data and make data-driven decisions to guide the product roadmap.
Conduct workshops and brainstorming sessions to solicit ideas from a larger group and synthesize them to choose ideas aligned to impact.
Build detailed requirements, journey maps, and prototypes for features and work closely with UX designers to produce development ready screens.
Work with internal content and design teams to provide detailed briefs for content creation required for delivering the feature.
Work closely with engineering teams to deliver with quick time-to-market and quality.
Work with marketing and ensure that product features are being promoted effectively.
Act as a product evangelist to build awareness and understanding within the organization.
Own the feature quality, collect feedback from various forums and close the loop.

Required Competencies
Educational Qualification : Graduate
Skill Competencies : 3+ years of experience in a product management role, preferably in a large-scale consumer product. Experience of working in a startup environment will be a plus.
Proven track record of managing all aspects of a successful product throughout its lifecycle. Experience with mobile Apps is preferred.
Ability to operate in an ambiguous and evolving environment.
Excellent communication skills.
Working knowledge of Figma and wireframing / prototyping.
Experience with data analytics platforms such as Amplitude / Clevertap / MoEngage / Mixpanel / Tableau or equivalent.
Solid technical background with understanding and/or hands-on experience in software development is a plus.
Bachelor's or Masters's degree in Computer Science, Engineering or an MBA preferred.

Experience : 7 ~ 10years
Gender : Any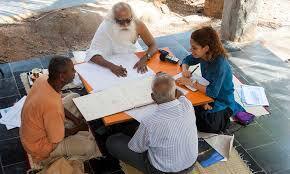 What do we look for in our candidates?
Entrepeneural Spirit and an egoless nature.
Proven work ethic with utmost integrity and desire to excel and succeed.
Self motivated, passionate, empathetic and approachable.
You love to have fun, but you also take your responsibilities seriously.
Interested?
Contact us
Phone: 94878 95874 / 94878 95876 / 94878 95877
Email: [email protected]
Isha Yoga Center
Velliangiri Foothills
Ishana Vihar Post
Coimbatore – 641 114
Tamil Nadu, India.