Marketing Automation Specialist

Would you like to be part of an organization driven by enthusiasm and oriented towards global harmony and individual empowerment?
The foothills of the Velliangiri mountains, forty kilometers from the city of Coimbatore in South India, serve as a home for the Isha Yoga Center. The center is dedicated to fostering inner transformation and creating a stable state of well-being in individuals. The large residential facility houses an active international community of brahmacharis, full-time volunteers, and visitors. Every week, thousands of people converge at the center to seek inner peace and well-being, making it a vibrant hub of spiritual growth and activity.

Read more about Isha Foundation...
Purpose of the Job
The ideal candidate should have good experience in Channel Campaign manager - Complete understanding of CRM coupled with ability to strategize and launch successful Drip campaigns by employing effective engagement methods to optimize cost and maximize returns.
Job Responsibilities
1. Coordinating with campaign managers and product owners to plan and strategize for multichannel campaigns.
2. Overseeing all aspects of the campaigns from design to content to marketing to technical development.
3. Identifying best practices and scheduling campaigns based on effective campaign timing.
4. Extract the relevant data ( subset of data ) from CRM as per marketing requirements.
5. Coordinate with third parties like Facebook/Yellow Team for setting up WhatsApp templates.
6. Set up Drip campaigns across platforms by employing effective engagement methods to optimize cost and maximize returns.
7. Coordinate with IT for any troubleshooting or new requirements.
8. User Acceptance Testing (UAT) any enhancements or new requirements built by IT.
9. Creation of reports on the metrics tracked for each channel for all stakeholders.
10. Analyze data from the campaign in order to identify strengths and weaknesses in order to better optimize future email marketing campaigns

Required Competencies
Educational Qualification : Bachelor Degree
Skill Competencies : 1. Up-to-date with the latest digital marketing trends and technologies for all platforms - Email, WhatsApp and Apps that drive organic traffic.
2. Minimum 2 years of industry experience as Channel Campaign Manager or similar role.
3. Excellent understanding of CRM systems.
4. Ability to strategize and launch successful various types of campaigns - Promotional ( Awareness, Registrations ), Surveys, Program campaigns, Post Program campaigns.
5. Possessing experience reporting and analyzing data.
6. Good knowledge of basic collaborative tools like using Google Sheets, Google docs , Google Slides etc.
7. Identifying requirements for IT on new features/enhancements to the existing tools.
8. Knowledge of Google Analytics will be an added advantage.
9. Ability and willingness to work with tight deadlines and adapt quickly to changing priorities and requirements.
10. Attention to detail and multi tasking skills.
11. Excellent time-management, interpersonal and verbal & written communication skills.
Experience : 0 ~ 3years
Gender : Any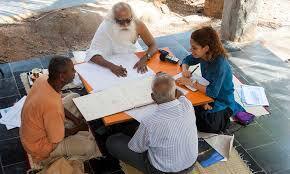 What do we look for in our candidates?
Entrepeneural Spirit and an egoless nature.
Proven work ethic with utmost integrity and desire to excel and succeed.
Self motivated, passionate, empathetic and approachable.
You love to have fun, but you also take your responsibilities seriously.
Interested?
Contact us
Phone: 94421 27000
Email: [email protected]
Isha Yoga Center
Velliangiri Foothills
Ishana Vihar Post
Coimbatore – 641 114
Tamil Nadu, India.