Administration & Management
Would you like to be part of an organization driven by enthusiasm and oriented towards global harmony and individual empowerment?
The foothills of the Velliangiri mountains, forty kilometers from the city of Coimbatore in South India, serve as a home for the Isha Yoga Center. The center is dedicated to fostering inner transformation and creating a stable state of well-being in individuals. The large residential facility houses an active international community of brahmacharis, full-time volunteers, and visitors. Every week, thousands of people converge at the center to seek inner peace and well-being, making it a vibrant hub of spiritual growth and activity.

Read more about Isha Foundation...
Purpose of the Job
Back office database management
• Internal coordination with various ashram departments
• Report preparation using google sheets / MS office
• Content creation and coordination for promotional activities
Mass media and digital marketing experience to support in Promo activities
Project Management - transcribing, video editing, photography

Job Responsibilities
Detailed screening and interview of Long term volunteering applicants from all categories.
Coordinating arrival and exit of Sp alumni with SP alumni team
LTV Back office activity- Card Printing, Tracking meetings & feedback ( Seva, Stay area, in person, orientation content preparation, report generation, exit and break coordination.
LTVs communication management
IT Clearance coordination for LTVs
1st level calling for LTVs and scheduling interviews - 2 to 3 per day
Confirmation and check in /arrival process - coordinating Security and VRO.
LTV Database management
LTV email correspondence - participant oriented mails ( exit, break, query, concerns, id card lost,program volunteering, silence )
Auditing of LTV Database
Reaching out to different avenues for more volunteers (STV vols, SP, program vols)
SadhanaPada non interview ppl -initiating interviews
Monthly and weekly orientation - coordination between departments ( Teachers, Hall& audio booking )
Generating weekly and monthly reports.
Coordinating with OCO, VRO, SP alumni and Admin team on a constant basis for smooth flow of day to day activities. (Feedbacks, access to the ashram, OCO relevant information about the volunteer)
Project management - content creation and coordination with E-media.
Coordination with various service providers for promotional activities
Content repository management

Required Competencies
Educational Qualification : Graduate
Skill Competencies : Bachelor's degree in business administration or similar field.
Previous work experience as an Office Executive.
Excellent organizational skills.
Knowledge of computer operating systems and MS Office software.
Ability to work as part of a team.
High-level written and verbal communication skills.
Basic knowledge of finances and accounting.
Mass media and digital marketing experience
Project Management - transcribing, video editing, photography
Experience : 4 ~ 6years
Gender : Any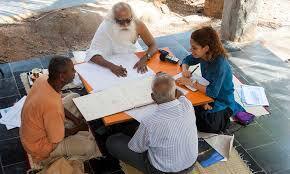 What do we look for in our candidates?
Entrepeneural Spirit and an egoless nature.
Proven work ethic with utmost integrity and desire to excel and succeed.
Self motivated, passionate, empathetic and approachable.
You love to have fun, but you also take your responsibilities seriously.
Interested?
Contact us
Phone: 94878 95874 / 94878 95876 / 94878 95877
Email: [email protected]
Isha Yoga Center
Velliangiri Foothills
Ishana Vihar Post
Coimbatore – 641 114
Tamil Nadu, India.