Would you like to be part of an organization driven by enthusiasm and oriented towards global harmony and individual empowerment?
The foothills of the Velliangiri mountains, forty kilometers from the city of Coimbatore in South India, serve as a home for the Isha Yoga Center. The center is dedicated to fostering inner transformation and creating a stable state of well-being in individuals. The large residential facility houses an active international community of brahmacharis, full-time volunteers, and visitors. Every week, thousands of people converge at the center to seek inner peace and well-being, making it a vibrant hub of spiritual growth and activity.

Read more about Isha Foundation...
Purpose of the Job
Video shooting for different programs/events in different cities and in the ashram
Job Responsibilities
1. Need to shoot the events/programs and capture it in the best possible way. 2. Need to check on the calendar of the events and plan for the necessary requirements (Manpower & tech. equipment). 3. Required to travel to different places and also spend a considerable amount of time in the ashram for work. 4. Provide practical and creative input to scene planning. 5. Select, assemble and position equipment (cameras, stands, software etc.) 6. Arrange cameras and test angles or camera movements. 7. Capture quality footage from a fixed or moving position. 8. Collaborate with technical, lighting, sound staffs and aesthetic to produce the best final effect. 9. Resolve technical or practical issues. 10. Edit footage as needed.
Required Competencies
Educational Qualification : Diploma
Skill Competencies : 1. Should be proficient in handling latest cameras and also should have knowledge on the accessories.
2. Proven experience as cameraman and operating relevant equipment (cameras, cranes etc.)
3. Excellent theoretical knowledge of filming and capturing footage.
4. Ability to understand and follow camera scripts.
5. Excellent communication skills.
6. The person should be willing to travel.
7. Ability to think and act quickly.
8. A team player.
9. Attention to detail.
10. Physical strength to carry heavy equipment and stamina.
11. Excellent colour vision and hearing.
Experience : 4 ~ 6years
Gender : Male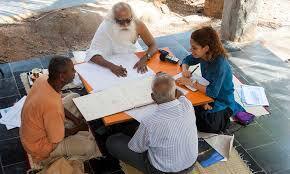 What do we look for in our candidates?
Entrepeneural Spirit and an egoless nature.
Proven work ethic with utmost integrity and desire to excel and succeed.
Self motivated, passionate, empathetic and approachable.
You love to have fun, but you also take your responsibilities seriously.
Interested?
Contact us
Phone: 94421 27000
Email: [email protected]
Isha Yoga Center
Velliangiri Foothills
Ishana Vihar Post
Coimbatore – 641 114
Tamil Nadu, India.