Would you like to be part of an organization driven by enthusiasm and oriented towards global harmony and individual empowerment?
The foothills of the Velliangiri mountains, forty kilometers from the city of Coimbatore in South India, serve as a home for the Isha Yoga Center. The center is dedicated to fostering inner transformation and creating a stable state of well-being in individuals. The large residential facility houses an active international community of brahmacharis, full-time volunteers, and visitors. Every week, thousands of people converge at the center to seek inner peace and well-being, making it a vibrant hub of spiritual growth and activity.

Read more about Isha Foundation...
Purpose of the Job
Act as a Data Scientist for data handling, extraction, manipulation; creating a structured form of data and pulling tangible insights from data
Lead the development of statistical models (predictive modeling, forecasting etc.) and apply appropriate techniques such as Exploratory Analysis, Regression, Segmentation, Machine learning etc

Job Responsibilities
Develop scorecards to finely rank order like-to-buy scores, look-a-like audiences etc.
Prepare a summary of results for in-house discussion and take feedback whenever/wherever required
Develop executive reports presenting the analytical insights derived from the data analyst
Strong ability to extract strategic insights from large data sets
Adept with using Statistical (like forecasting/modeling, data analysis, regression/optimization models), Machine Learning (GBM, Decision Trees etc.) & AI techniques (Deep Learning.
2-3 years of model development and validation experience
Required Competencies
Educational Qualification : Master Degree
Skill Competencies : Proficient in data handling suites PYTHON, Spark, R, HIVE, SAS, SQL, or similar packages
Excellent written and oral communication skills with the ability to clearly communicate ideas and results to non-technical business people
Strong aptitude, ability, motivation and interest in placing quantitative analysis in the context of marketing and business economics.
Adept with knowledge & working on Visualization tools like Tableau, POWER BI, etc.
Experience : 4 ~ 6years
Gender : Any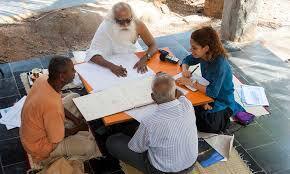 What do we look for in our candidates?
Entrepeneural Spirit and an egoless nature.
Proven work ethic with utmost integrity and desire to excel and succeed.
Self motivated, passionate, empathetic and approachable.
You love to have fun, but you also take your responsibilities seriously.
Interested?
Contact us
Phone: 94878 95874 / 94878 95876 / 94878 95877
Email: [email protected]
Isha Yoga Center
Velliangiri Foothills
Ishana Vihar Post
Coimbatore – 641 114
Tamil Nadu, India.