Assistant In Medical Room

Would you like to be part of an organization driven by enthusiasm and oriented towards global harmony and individual empowerment?
The foothills of the Velliangiri mountains, forty kilometers from the city of Coimbatore in South India, serve as a home for the Isha Yoga Center. The center is dedicated to fostering inner transformation and creating a stable state of well-being in individuals. The large residential facility houses an active international community of brahmacharis, full-time volunteers, and visitors. Every week, thousands of people converge at the center to seek inner peace and well-being, making it a vibrant hub of spiritual growth and activity.

Read more about Isha Foundation...
Purpose of the Job
We have an in-house endodontist with us in the Ashram Clinic to perform several dental procedures within Ashram premises without sending them to clinics outside. We have an increasing number of patients and also a variety of procedures being performed which cannot be managed single handedly by the dentist. Hence we need a person to assist and support the dentist in these aspects.
Job Responsibilities
Receive and greet patients in the dental clinic.
Prepare patients for dental treatments and check-ups ensuring their comfort.
Should be responsible for cleaning and sterilisation of instruments on a daily basis.
Select and arrange equipment and tools as required for each treatment.
Assist the dentist in the 4-handed dentistry through the entire duration of the procedure.
Should upload Pre and Post operative pictures with IOPA.
Should keep the operation area clean.
Should raise the dental chair and flush out water from spittoon.
Make sure the garbage bins are cleared in coordination with Housekeeping staff.
Attempt and undertake all the assigned lab tasks by the dentist.
Provide guidelines and safety practices of post-operative care and oral hygiene.
Should update the Indent Stock register.
Manage and schedule appointments as instructed by the dentist.
Ensure subsequent sittings/reviews happen on time by coordinating with the dentist and the backoffice.
Maintain both online and offline patient records accurately and help them with payment methods.
Handover all bills to the accounts team on or before the 20th of every month.
Support the dentist with new vendor registrations.
Required Competencies
Educational Qualification : Any
Skill Competencies : Good communication skills
Time management
Should be attentive and quick in grasping instructions and responding to them.
Experience : 0 ~ 3years
Gender : Any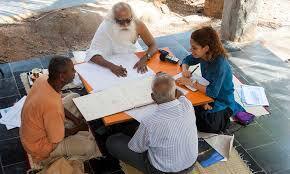 What do we look for in our candidates?
Entrepeneural Spirit and an egoless nature.
Proven work ethic with utmost integrity and desire to excel and succeed.
Self motivated, passionate, empathetic and approachable.
You love to have fun, but you also take your responsibilities seriously.
Interested?
Contact us
Phone: 94878 95874 / 94878 95876 / 94878 95877
Email: [email protected]
Isha Yoga Center
Velliangiri Foothills
Ishana Vihar Post
Coimbatore – 641 114
Tamil Nadu, India.