Would you like to be part of an organization driven by enthusiasm and oriented towards global harmony and individual empowerment?
Isha's various educational initiatives work towards the wholesome development of the child and the inculcation of life skills.

Isha Vidhya is a pioneering education initiative that seeks to transform the lives of India's rural poor.

It was established in 2006 (under the umbrella of Isha Education trust) towards building an India where high-quality school education is accessible and affordable, especially for rural underprivileged children.

Isha Vidhya provides education as a life-empowering opportunity for rural children. The English-language, computer-based learning follows a holistic approach that takes learning beyond academics, ensuring that students realize their full potential and learn joyfully.

Isha's Government School Support Program supplements the government's efforts by bridging critical gaps in delivering quality education.

Read more about Isha Foundation...
Purpose of the Job
School Coordinators play a key role in making academic plan successful. They are responsible for driving the academic plan, and ensuring it is integrated into the wider practice of the school. School Coordinators will be members of the school's senior leadership team.
Job Responsibilities
1. Prepare/Curate lesson plan, videos and activities appropriate for the class level. 2. Trian the teachers. 3. Coordinate with school heads in implementing the content prepared. 4. Observe the teachers' class and give appropriate feedback to improve their class. 5. Update the content based on the observation and feedbacks.
Required Competencies
Educational Qualification : Bachelors or Masters degree
Skill Competencies : 1.Able to curate appropriate content from online.
2. Good written and communication skill.
3. Good planning and organizing skill.
4. Familiar with MS Office and Google suit.
5. Mentoring/training teachers.
Experience : 4 ~ 6years
Gender : Any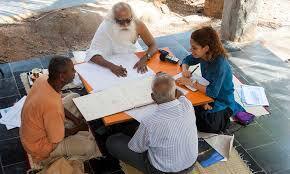 What do we look for in our candidates?
Entrepeneural Spirit and an egoless nature.
Proven work ethic with utmost integrity and desire to excel and succeed.
Self motivated, passionate, empathetic and approachable.
You love to have fun, but you also take your responsibilities seriously.
Interested?
Contact us
Phone: 94878 95874 / 94878 95876 / 94878 95877
Email: [email protected]
Isha Yoga Center
Velliangiri Foothills
Ishana Vihar Post
Coimbatore – 641 114
Tamil Nadu, India.