Would you like to be part of an organization driven by enthusiasm and oriented towards global harmony and individual empowerment?
The foothills of the Velliangiri mountains, forty kilometers from the city of Coimbatore in South India, serve as a home for the Isha Yoga Center. The center is dedicated to fostering inner transformation and creating a stable state of well-being in individuals. The large residential facility houses an active international community of brahmacharis, full-time volunteers, and visitors. Every week, thousands of people converge at the center to seek inner peace and well-being, making it a vibrant hub of spiritual growth and activity.

Read more about Isha Foundation...
Purpose of the Job
Creating highly usable solutions focused on user experience and brand guidelines.
Job Responsibilities
1. Balancing creative requirements with business requirements. 
2. Translate experience and business objectives into creative strategies. 
3. Work across multiple platforms. 
4. Ensuring quality deliverables are maintained. 
5. Translate concepts into user flows, wireframes, mockups, and prototypes that lead to intuitive user experiences across multiple platforms.
Required Competencies
Educational Qualification : Graduate
Skill Competencies : 1. Graduate / Post Graduate Degree in Graphics/Communication Design from a reputed institute.
2. with 5-8 years of relevant experience in Creative Design Agencies.
3. Strong experience in understanding brand, visual language & digital design projects using the design process and advance methods.
4. Experience in process of developing and delivering a user-focused website or mobile app.
5. Have taken up a user-centered research project which clearly defines the type of research undertaken, problem statement identified, and process of executing results.
6. A strong portfolio that showcases current projects undertaken and prioritized based on impact, process orientation, and recency.
Experience : 7 ~ 10years
Gender : Any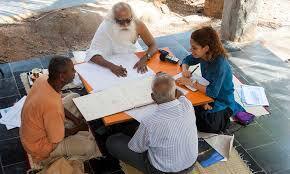 What do we look for in our candidates?
Entrepeneural Spirit and an egoless nature.
Proven work ethic with utmost integrity and desire to excel and succeed.
Self motivated, passionate, empathetic and approachable.
You love to have fun, but you also take your responsibilities seriously.
Interested?
Contact us
Phone: 94878 95874 / 94878 95876 / 94878 95877
Email: [email protected]
Isha Yoga Center
Velliangiri Foothills
Ishana Vihar Post
Coimbatore – 641 114
Tamil Nadu, India.